Putin a Rainbow
Website met crowd sourced memes
2013
︎
Putinarainbow.com
is een protestwebsite die op 1 april 2013 werd gelanceerd als reactie op een Russische wet die 'homopropaganda' verbiedt. Onderdeel van deze wet is een verbod op het tonen van de regenboog, het symbool van de homogemeenschap. Als reactie hierop vroegen we mensen om twee tegenstrijdige symbolen - Poetin en de regenboog - te combineren in één beeld. De website werd een groot succes, zo wel online als offline.
Selectie inzendingen
De meest iconische inzending kwam binnen op 9 april 2013 en werd toegevoegd aan ons
archief
door
Pablo el Terrible
. Dit beeld werd vervolgens zo vaak gedeeld en gebruikt, zowel off- als online, dat het een icoon op zich werd.
De afbeelding trok de aandacht van de Russische regering toen deze op 7 mei 2014 werd gepubliceerd op VKontakte, het grootste sociale netwerk van het land, door een gebruiker genaamd Aleksandr V. Tsvetkov. Het Oekraïense lifestyle magazine
Buro 247
schrijft: "De Russische presidentiële perschef Dmitry Peskov noemde de afbeelding "obsceen", maar merkte op dat Poetin geleerd heeft geen aandacht aan zulke dingen te besteden. Na de verklaring van Peskov wordt het onduidelijk waarom het portret in dit geval verboden zou moeten worden.
Drag Putin a la Warhol — Submitted by Pablo el Terrible
Het besluit om de afbeelding te verbieden, zorgde voor onmiddellijke wereldwijde aandacht. Onder meer
The New York Times
,
The Moscow Times
en de
South China Morning Post
besteedden aandacht aan het Russische beeldverbod. Steven Colbert besteedde er aandacht aan in zijn Late Show en toonde de 'verboden afbeelding' aan een miljoenenpubliek.
Het beeld staat inmiddels op de officiële Russische
lijst van extremistisch materiaal
; samengesteld en gepubliceerd door het Russische Ministerie van Justitie. Pablo's afbeelding is te vinden op nummer 4071 onder de volgende omschrijving: "Een poster waarop een op de president van de Russische Federatie V.V. Poetin gelijkende persoon is afgebeeld, op het gezicht waarvan make-up - wimpers en lippen - zijn opgemaakt, die volgens de bedoeling van de auteur / poster moet dienen als een hint naar de vermeende niet-standaard seksuele geaardheid van de president van de Russische Federatie. [...] (beslissing van de centrale districtsrechtbank van Tver van 05/11/2016).
Pablo's Drag Putin a la Warhol duikt jaren later weer op
Unauthorised commercial rip-offs
Gay Clown Putin Scarf — €25,91
Vladimir Putin Rainbow Stop Homophobia Gay LGBTQ Shower Curtain — €61,18
Putin in Makeup Rainbow Drawstring Bag — €24,54
Vladimir Putin Rainbow Stop Homophobia Gay LGBTQ Socks — €14,15
Vladimir Putin Gay Clown A-Line Dress — €49,49
Vladimir Putin Rainbow Stop Homophobia Gay LGBTQ Leggings — €51,61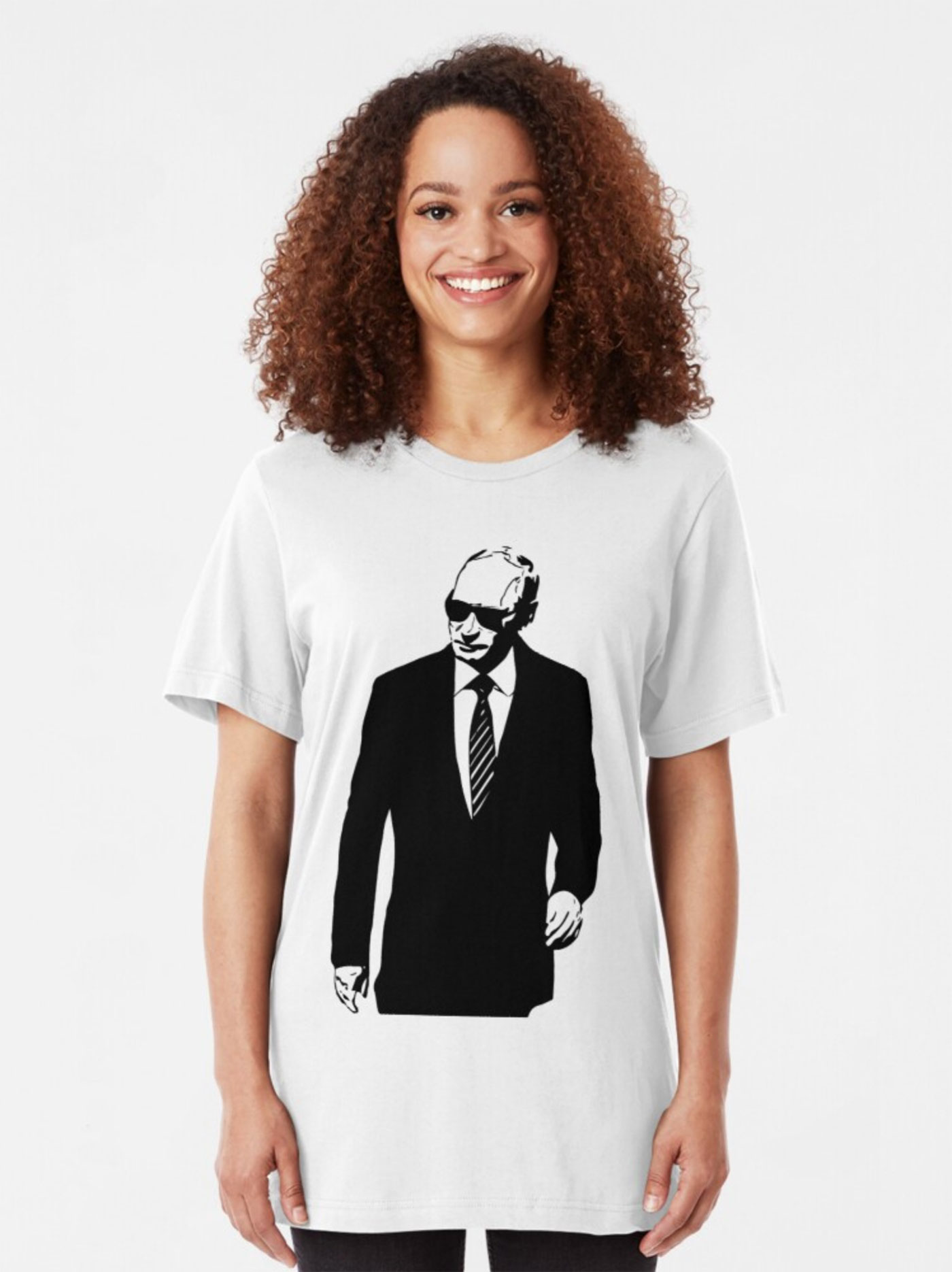 Mockup model met Pro-Putin T-shirt

Mockup model met Anti-Putin T-shirt

'Jokes are the continuation of politics by other memes.' — Metahaven
— Credits
Concept: Yuri Veerman & Brigiet van den Berg
Opdrachtgever: COC Amsterdam
Website: Tobias Urff, built with tumblr


— Drag Putin a la Warhol
Instagram post
van Pablo el Terrible die het auteurschap claimt over zijn afbeelding 'Drag Putin a la Warhol', later bekend als 'Gay Clown Putin'.
— Expositie
Resolute Design Changes - MOTI, Casino Luxembourg, Lodz Design Festival
︎︎︎
Reddit
(US)
— Research papers