Putin a Rainbow
Website, campaign, meme — 2013
Putinarainbow.com is a collaborative protest website that was launched on April 1st 2013 as a response to a Russian
law
that prohibits 'gay propaganda'. This includes a ban on the rainbow, the symbol of the gay community. In respons, putinarainbow.com asks people to creatively combine two conflicting symbols – Putin and the rainbow – in one image.
A selection of submissions
Drag Putin a la Warhol — Submitted by Pablo el Terrible
We received our most iconic submission from
Pablo el Terrible
who uploaded his
Drag Putin a la Warhol
to our website on April 9th 2013. This image was then shared and used so often, off- and online, that it became an icon in itself.
More than three years after its creation, Pablo's Drag Putin even made it to Russia's official
list of extremist materials
; composed and published by the Russian Ministry of Justice. Pablo's image can be found at number 4071 under the following description: 'A poster depicting a person similar to the President of the Russian Federation V.V. Putin, on the face of which make-up - eyelashes and lips are made up, which, according to the author / poster's intention, should serve as a hint at the alleged non-standard sexual orientation of the President of the Russian Federation. [...] (decision of the Central District Court of Tver of 05/11/2016).'
The image caught the attention of the Russian government when it was published on VKontakte, the countries largest social network, by a user named Aleksandr V. Tsvetkov on May 7th, 2014. Ukranian lifestyle magazine
Buro 247
writes: 'Russian presidential press secretary Dmitry Peskov called the image "obscene", but noted that Putin has learned not to pay attention to such things. After Peskov's statement, it becomes unclear why the portrait should be banned in this case.'
The decision to ban the image, gave it instant worldwide attention. The Russian image ban was covered by
The New York Times
,
The Moscow Times
and the
South China Morning Post
, among others. Steven Colbert covered it in his Late Show, showing the 'forbidden image' to an audience of millions.
Pablo's Drag Putin a la Warhol at various protests
Pablo's image resurfaced on many protest signs and banners; first during protests against Putin's 'gay propaganda' legislation, a year later it was used during protests against the upcoming Winter Olympics in Sochi. By that time, the image had already gained massive popularity. But only after Russia's decision to ban the image, the image completely blew up.

Following up on its sudden popularity, many people used Pablo's iconic image to sell all types of mass produced products: T-shirts, mugs, iPhone cases, shower curtains, clocks, socks, just anything. All without the consent of the original creator and for their own financial gain. Although these products are terrible from an ethic and creative point of view, they are also an inevitable effect of the image's popularity and a vital part of the campaign's initial purpose, which was to simply spread the images.



Unauthorised commercial rip-offs
Vladimir Putin Rainbow Stop Homophobia Gay LGBTQ Socks — €14,15
Putin the Gay Clown Clock — €28,46

Vladimir Putin Rainbow Stop Homophobia Gay LGBTQ Leggings — €51,61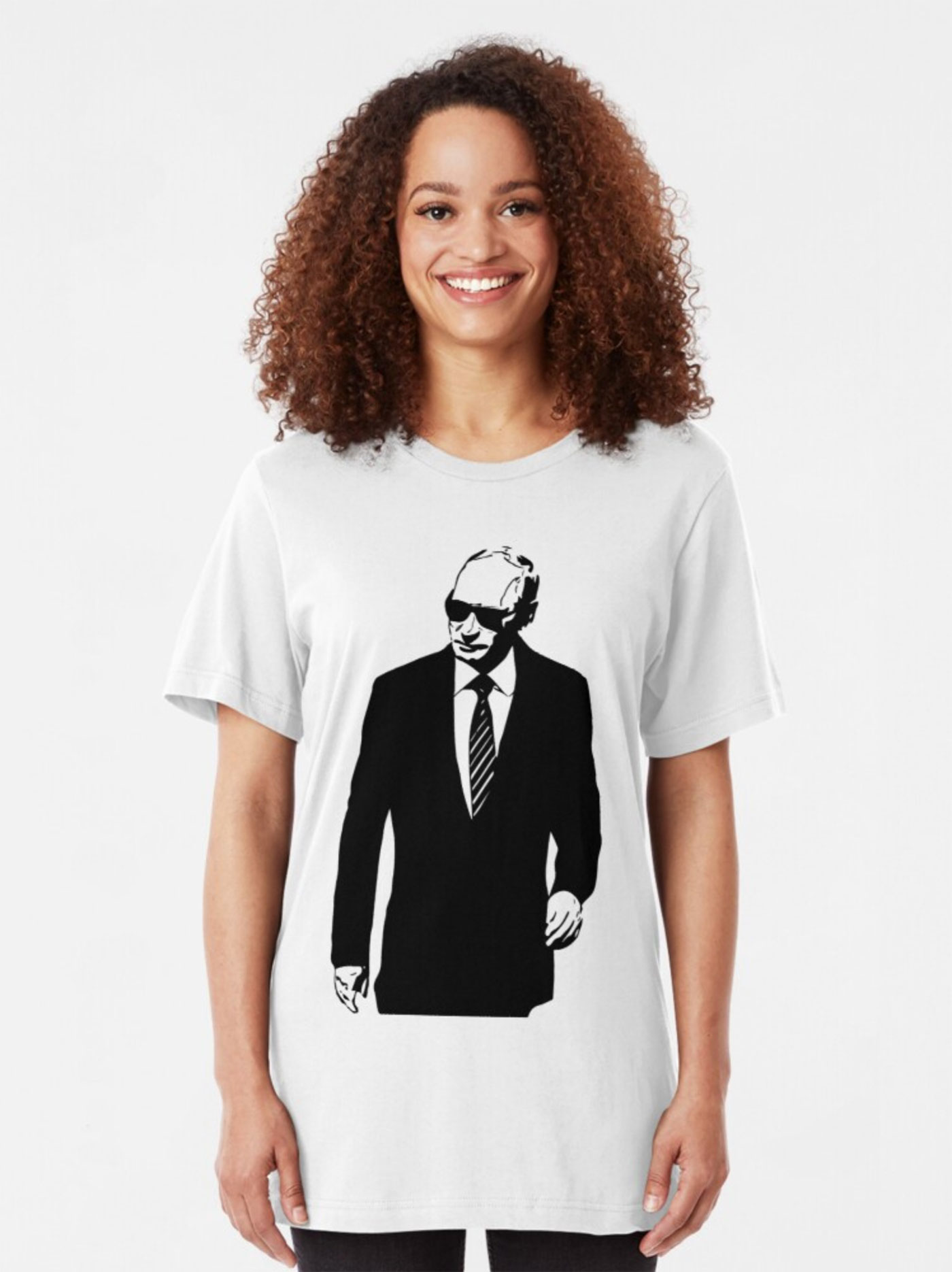 Mockup model with Pro-Putin T-shirt

Mockup model with Anti-Putin T-shirt

'Jokes are the continuation of politics by other memes.' — Metahaven
Credits
Putin a Rainbow
by Yuri Veerman & Brigiet van den Berg
2013
— Website and campaign
On request of COC Amsterdam
Concept: Yuri Veerman & Brigiet van den Berg
Website: Tobias Urff, built with tumblr
Submissions: as credited