Koppie Koppie
Campaign and webshop — 2015
koppie-koppie.biz
Koppie Koppie is a
webshop
that sells mugs with pictures of other people's children. The pictures were taken from photo sharing website Flickr. The webshop was launched as part of an awareness campaign about digital privacy organised by medialab SETUP in The Netherlands.
7dd_c271580-zuleikha-9-years
Wolfgang Lonien
CC BY-SA 2.0
My daughter first photo
Sooyong Wang
CC BY-SA 2.0
Kids
Gemteck1
CC BY 2.0
Lemon Boy
Mindaugas Danys
CC BY 2.0
My sunshine
Gerd Bilow
CC BY 2.0
Naked Chef
tiffany terry
CC BY 2.0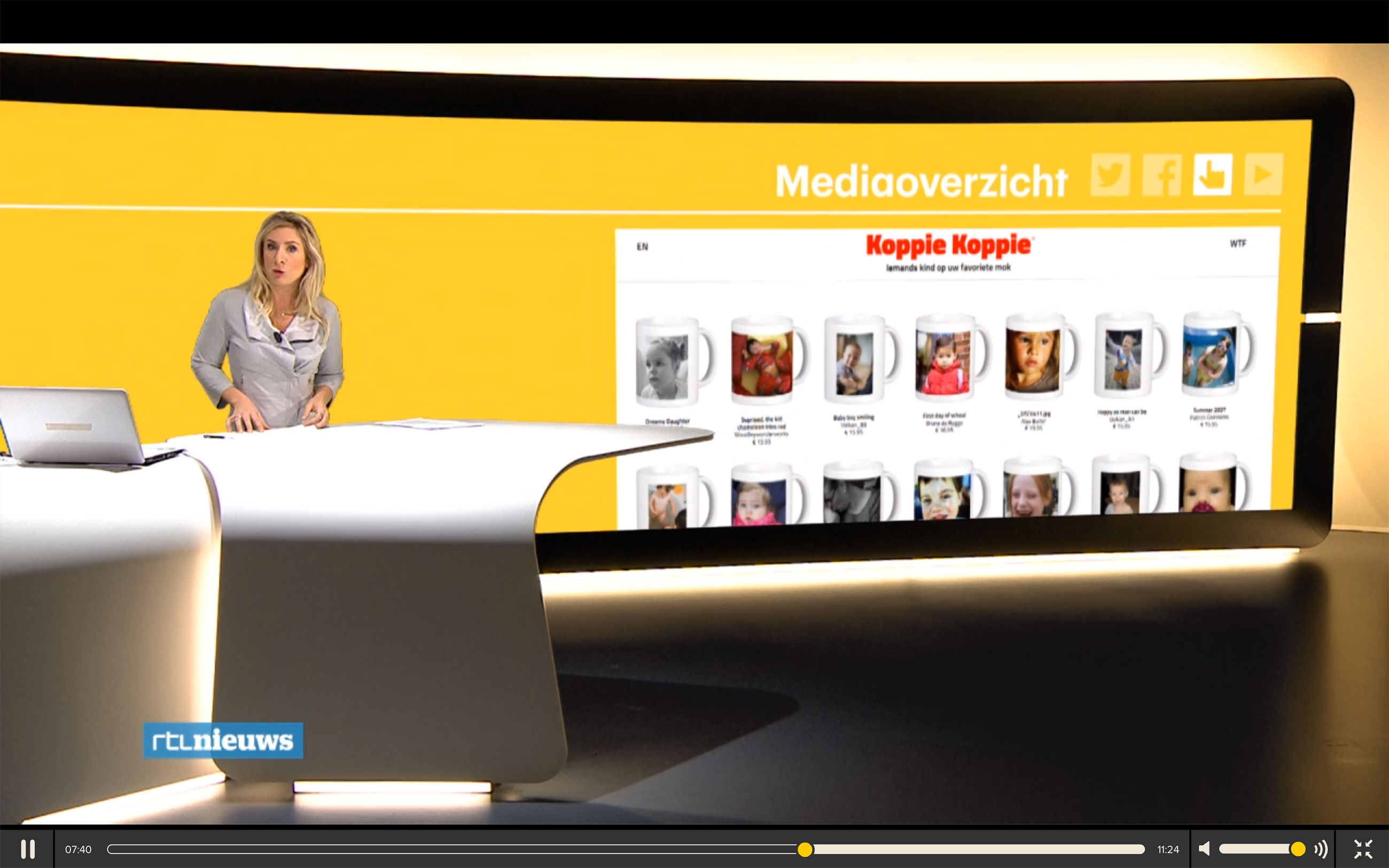 Koppie Koppie on TV
••••••••
Koppie Koppie on CNN
••
When
Dimitri Tokmetzis
(journalist for The Correspondent) and I launched our campaign we decided to reveal the true nature of our project from the start: our website clearly stated that while we did actually sell the mugs, the webshop was part of a campaign to raise awareness on digital privacy. Being transparant about our intentions helped us to get our message across instead of just creating noise. It also helped that we allowed parents to send us a request to remove the image of their son or daughter from our webshop. We received about ten requests – all from Dutch parents – in the first week of our campaign and always responded the same day. After Koppie Koppie was launched, it received a lot of attention from the Dutch and international media: newspapers, blogs, social media and television. Dimitri even gave an interview to
CNN
.
Selection of requests from parents to have the image of their child removed from our webshop (Dutch only).
——————————————
To:
delete@koppie-koppie.biz
Subject: Foto op Koppie Koppie
Beste,
ik weet natuurlijk welk risico ik neem met het opladen van foto's naar online social media platformen, dat is deel van mijn job ook. Jullie actie geeft wel pertinent weer wat er kan gebeuren, ook weer ontluisterend. Ik heb in ieder geval uit verschillende hoek vernomen dat mijn dochter geselecteerd was. Tof, ik drink wel koffie maar niet uit zo'n mok ... Dus
Ik zou er niks mee in zitten om die foto daar weg te hebben. Alvast bedankt en ik reken op jullie medewerking.
Die Flickr situatie is ook al opgelost: all rights reserved, maar hebben jullie nu wel nog recht om die foto te gebruiken, gezien de veranderde rechten, of niet? Kan je daar iets meer info over geven?
Bedankt, Cheers,
XXX
——————————————
To:
delete@koppie-koppie.biz
Subject: Gelieve de mok met mijn kind erop te verwijderen
Aan de ene kant snap ik jullie initiatief, maar ik denk dat de uitvoering je meer haters dan steun gaat opleveren.
Een mailtje had me ook op de hoogte gebracht.
Gaarne z.s.m. verwijderen.
——————————————
To:
delete@koppie-koppie.biz
Subject: Foto verwijderen
Geachte Yuri en Dimitri,
Goede actie. Maakt confronterend duidelijk hoe onzorgvuldig we soms met onze privacy omgaan.
Toch zou ik graag de foto van mijn dochtertje Maartje verwijderd willen zien. Op een of ander wijze kan ik niet meer inloggen op dit Flickr-account en kan dus de instellingen niet meer aanpassen.
Alvast hartelijk dank,
Groeten,
XXX
——————————————
To:
delete@koppie-koppie.biz
Subject: Hadewijch en snuit
Beste Yuri en Dimitri,
Dank voor de wake up call :)
Ik was vergeten dat ik überhaupt nog een account had op flickr. Ik heb de rechten aangepast, willen jullie de foto van Hadewijch en snuit verwijderen van de site?
Jullie hebben wel smaak moet ik zeggen, het is een aardige foto.
Met vriendelijke groet,
XXX
An anonymous fan of Koppie Koppie





Credits
Koppie Koppie
by Yuri Veerman & Dimitri Tokmetzis
2015
Client: SETUP Utrecht
Website built by: Bram Loogman
Related articles
Waarom wij mokken met foto's van andermans kinderen verkopen (misschien wel die van jou)
De Correspondent
- Dimitri Tokmetzis
Geopend, gesloten en heropend: hoe staat het met onze privacyschendende webshop?
Campagne voeren met een mok
O.P.A.
- Yuri Veerman